As we enter the last quarter of 2018,  let's take this opportunity to examine where the digital video advertising market stands right now.
When talking about digital video advertising, you may have heard a long list of scholarly words such as "in-stream", "pre-roll", "in-banner". Let's try to make sense of them first; a digital video ad is any ad containing a video that is delivered via an internet network (3G, 4G, Fiber, xDSL, etc.) and displayed on an internet-connected device (laptop, smartphone, tablet, TV).
Here's how to understand them:
The Two Video Ad Formats
1. "In-stream" – when the video ad is run before, in the middle or after video content and respectively called pre-roll, mid-roll, or post-roll, in the same way as a commercial break on TV.
2. "Out-stream" – when a video ad is displayed in a standard banner placement. Other names for this are in-display video, in-banner video, in-page video, rich media ad, video interstitial, incentivized video and in-feed video
The diverse vocabulary given to digital video advertising shows the ad format has been in the market for years now, but a shared feeling among digital experts is that its full potential has not yet been seen. To understand why, let's take a look at video advertising from three different angles: the advertiser side, publisher side and user side.
(Read more: How to Optimize Your Video Ads for YouTube, Facebook, and Twitter) 
1. The view from the Advertiser side
Ad spend is on the rise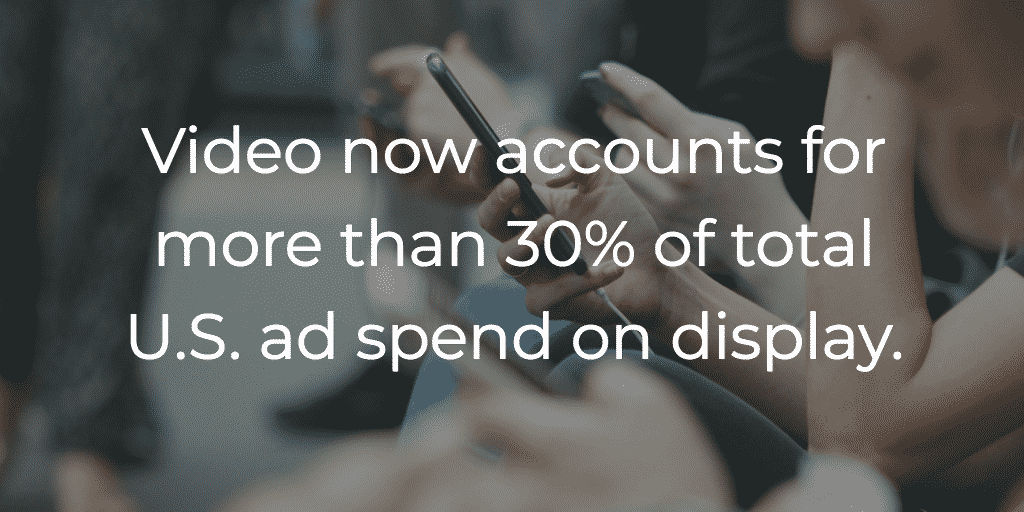 The Digital Video Advertising market is growing fast everywhere in the world. According to the IAB, US ad spend (both in-stream and out-stream) is estimated at $15B for 2018, a 20% increase from 2017 ($11.9B) and a 40% increase from 2016 ($8.9B).
Even when these figures are set in perspective with other ad types, they're still impressive: video now accounts for more than 30% of total US ad spend on display, while last year, mobile video revenues surpassed desktop video revenues.
Things look similar in Europe, where in 2017, video ad spend was estimated at 5,3B€ and represented 27% of the total European displays (banner + video).
In APAC, despite South Korea and Japan being seen as smaller markets for digital video ad spend, the two countries have experienced YoY growth upwards of 1000% and 900% respectively in ad spend on Mobile Video Ads!
Figures for 2019 will need to be looked at with care but there is no reason that this global trend should decrease or stop in the future. During the first half of 2018, IAB ran a survey in which over 80% of all US respondents answered that they will increase their video investment in the next 12 months.
What are these budgets used for?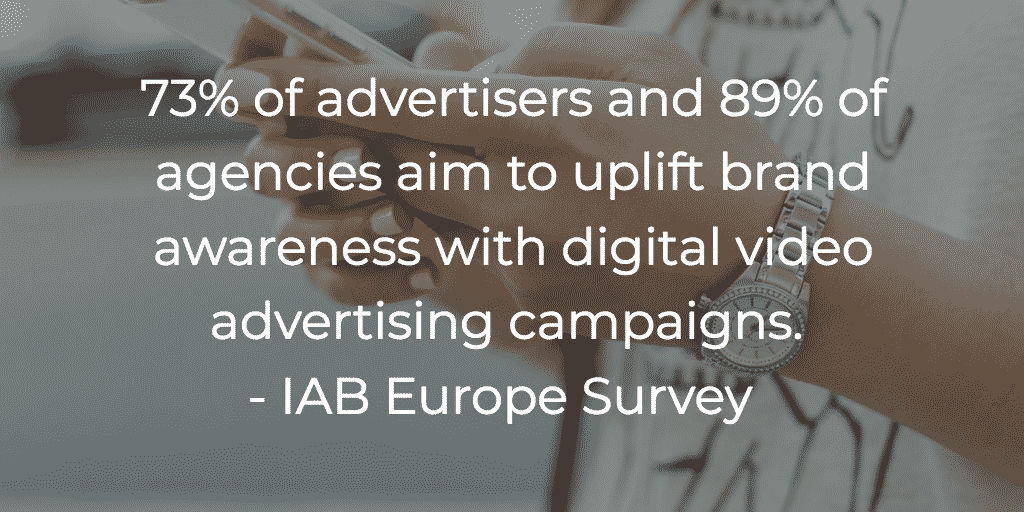 Today, video campaign objectives are mainly to drive awareness and maximize traffic, interactions or completion rates. According to a IAB Europe survey from March 2018:
"Digital video ad formats are synonymous with storytelling and engaging with customers through their journey. It is no surprise then that 73% of advertisers and 89% of agencies aim to uplift brand awareness with digital video advertising campaigns".
Indeed, many advertisers are looking to increase the reach of their TV campaigns. As a result, the vast majority of digital video budgets are spent on brand awareness in the same way that TV ads are. So it's not surprising that these digital budgets are managed by the same teams in charge of TV budgets.
This tendency is also reflected in a 2018 study from the IAB: in the US, 45% of video displays are for upper-funnel objectives, 49% for mid-funnel objectives and only 12% for lower-funnel objectives.
Even if lower-funnel objectives are not the main priority of video budget owners at the moment, there exists some growing initiatives in the market to address performance objectives with video. For instance, at Criteo, we provide an Interactive Video format within our DCO+ technology that helps marketers drive more sales.
(Read more: How to Build a Video Marketing Strategy)
On the path to a bigger and better video market
Even if everything looks bright when one looks at the figures, video advertising has, at the moment, several limitations that may slow down its market growth.
One of the biggest limitations is the complexity involved with measuring viewability on dedicated video inventory (requiring VAST/VPAID standard, the technology used to deliver the videos) . Publishers should guarantee that video ads are played only when the video player is viewable, so it's only fair that advertisers want proof of that. According to IAB Europe:
"Approximately half of buyers also want to see viewability metrics for their digital video advertising campaigns, which is likely to be due to the higher cost of digital video inventory."
Until now, video ad standards have mostly failed to answer this need: VPAID standard is able to catch and report on viewability metrics but it is not its original purpose (allowing JavaScript code was planned for interactivity) and it's not really popular on the publisher side. Until recently, VAST standard was simply unable to report on viewability metrics.
Fortunately, the IAB shared some good news last June: the last version of the VAST standard (4.1) is compatible with the Open Measurement Interface Definition and the OM SDK. Therefore, viewability on VAST-only inventory can be measured on supporting publishers. It will take some time to roll out this solution on all publishers, but it definitely shows that the market is moving in the right direction.
2. The View from the Publisher side
Meeting demand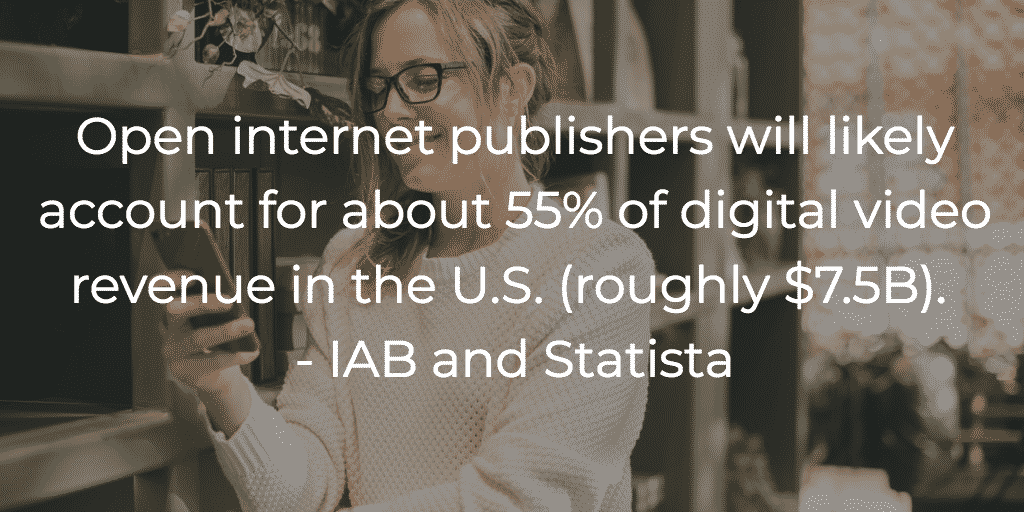 It's no secret that walled gardens provide a significant piece of the available video inventory. However, publishers from the Open Internet are launching more and more initiatives around video.
According to figures from the IAB and Statista, open internet publishers will likely account for about 55% of digital video revenue in the US (roughly $7.5B).
However, advertiser demand is so high that there remain questions about publishers' capacity to match this demand globally. For instance, in Europe, the IAB showed concerns about available inventory:
"The supply of digital video advertising inventory is still in the process of being established."
Even if publishers' offerings may be too low at the moment, there's little doubt that available inventory will increase. Video usage on digital devices will only increase in the coming years, generating additional advertisable inventory. Last year, Cisco estimated that by 2021, 80% of the world's internet traffic will be video.
"Live Internet video has the potential to drive large amounts of traffic as it replaces traditional broadcast viewing hours."
Another example is that live video accounted for 3% of the Internet video traffic in 2017 and will reach 13% by 2021. Live video is highly advertisable content that will help increase available inventory both on digital devices and on the TV screen with the help of emerging addressable TV technology.
(Learn more: Video Retargeting: How It Works and Why You Need It)
The evolution of trading methods
The trading solution used to sell inventory is also key when it comes to the evolution of the video market. On the display market, about 80% of US ad spend in 2018 is transacted programmatically, according to eMarketer. Where does the video market stand in comparison?
Globally, directly sold inventory dominates digital video advertising trading and less than half of digital video is generated programmatically in 2018 (44%). Nevertheless, it is a 55% increase from 2016 (29%).
A safe bet is that the video market is only a few years behind the display market and will follow display market trends in terms of trading methods. It is even more convincing when we look at the US market in which 74% of video ads are traded programmatically in 2018.
Inventory quality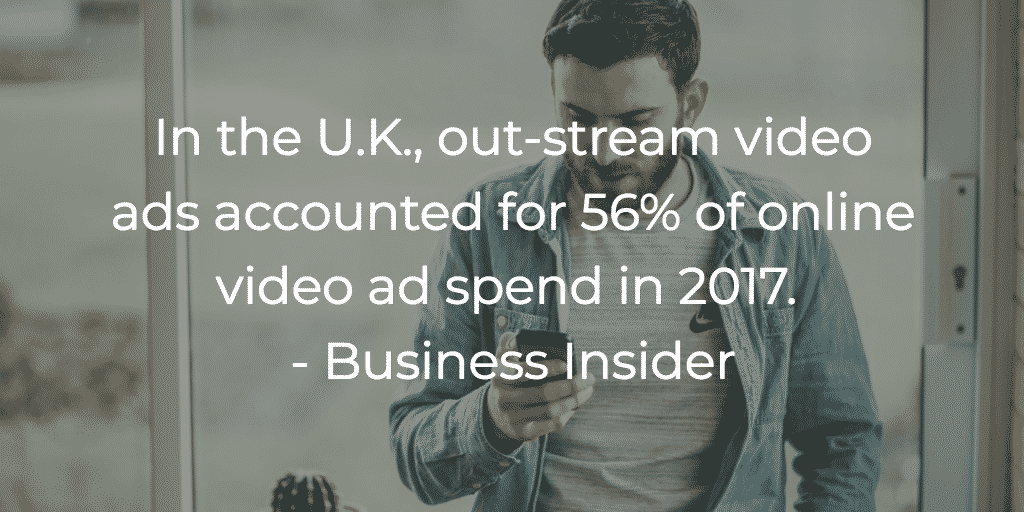 When it comes to the publisher side, inventory quality is a key topic to help the market grow. As mentioned earlier, video inventory can be split into two ad formats: in-stream and out-stream. These have different strengths and weaknesses and are valued differently by advertisers.
In-stream inventory has long been seen as very qualitative and effective thanks to its position in-between streaming video content that keeps the user focused on the screen. The main issue though is that such inventory is quite limited and therefore more expansive.
Out-stream inventory has opposite strengths and weaknesses: it provides expansive reach on the Open Internet, but the publisher environment is often challenged by advertisers.
As a result, in-stream continues to drive digital video advertising investment in Europe and in the US. But, it is worth noting that out-stream is starting to have more and more success, especially for advertisers looking to extend their reach beyond TV. In the UK, out-stream video ads accounted for 56% of online video ad spend in 2017, according to Business Insider.
While the future remains uncertain, the market is likely to move globally towards a balanced use of in-stream and out-stream and follow the UK example.
3. On the User Side
Video consumption
Digital advertising video is a major focus among players in the industry because video content is becoming a growing interest for users across all devices. Traditional media keeps losing ground against digital video. According to Business Insider quoting Publicis Media agency, Zenith:
"Global online video consumption will grow by an average of 9 minutes per day each year until 2020 and cord-cutting in major markets will accelerate at the same time."
Globally, consumers will spend 84 minutes a day watching online video in 2020, up 25% from 67 minutes in 2018. Of course, it will benefit ad-free video platforms (think of Netflix) but advertising VOD platforms will also capture a fair share of growth.
Towards a better user experience
As more users migrate to the Internet for video consumption, it's essential to entertain them with a great ad experience.
In particular, meaningful and interactive creatives are key: the standard 30-second TV ad format should be used with care and advertisers should favor shorter ads as much as possible, especially on mobile devices. Interactivity features – such as overlays, all creative components displayed over video content e.g. CTAs on YouTube videos – are also helpful to engage the user.
Finally, a larger adoption of the skip button among publishers will contribute to a better user experience. The market is going in the right direction: according to an IAB Europe study published in March 2018, skippable inventory is catching up with non-skippable inventory.
Visualizing the Future
Even if some questions remain on all sides – especially around viewability measurements, new standard adoption rate, and inventory quality – there are many reasons to be optimistic for the evolution of Digital Video Advertising. All signs point to the format dominating digital advertising in the coming years, thanks to its high potential to drive engagement and the right technology being finally ready to scale. Stay tuned!