Two-thirds of consumers are spending more on groceries in Q3 2023 than they did last year. This shift underscores the CPG category's continued evolution. With consumer needs changing from quarter to quarter, CPG marketers must be flexible in response to the constantly changing environment. To equip marketers for the future of CPG, Criteo surveyed over 1,200 US shoppers and analyzed data from hundreds of CPG retailers and brands for the report, CPGenius Marketing: Shopper Insights for Success. Here are four insights from the report to help marketers win in CPG.
CPG drives strong ecommerce performance
In July 2023, CPG retailers saw a 13% surge in online sales compared to the same month in 2022. During the same period, their conversion rate rose 12%, and their online revenue increased by 5%. These numbers reveal that as inflation eases, consumers are increasingly turning to ecommerce platforms for their CPG purchases.
Indexed Online Transactions, July 2022 – July 2023
The extended shopping journey demands early holiday campaign launches
Among the quartile of Black Friday Health & Beauty shoppers with the longest path to purchase, the journey from initially viewing a product page to completing a transaction spans 17 days on average. Criteo data also indicates that the shopping journey is longer for more expensive items. For Health & Beauty items priced at $200 and above, this path to purchase is 9% longer compared to items priced under $60. For the Grocery category, a similar pattern emerges. Those in the quartile with the longest path to purchase for grocery items spend 12 days on average navigating their buying journey. For grocery products priced at $100 or more, this path extends by a substantial 29% when compared to items priced under $20.
Average Black Friday Weekend Path to Purchase
To effectively engage the slowest consumers throughout their path to purchase, marketers should launch campaigns even earlier, especially for higher-priced items, ensuring that touchpoints are thoughtfully distributed across the entire shopping journey.
Consumer urgency rises during the peak holiday season
As the holiday season nears, consumers begin to shop with more urgency. In the Health & Beauty category, the average number of days between a shopper's first item page view and their actual purchase drops from 6.7 days to 4.7 days. Similarly, in the Grocery sector, the average number of days between a shopper's first item page view and their final purchase drops from 5.7 days to 4.3 days.
Decrease in Shopping Journey Length for Purchases of CPG goods, November vs. October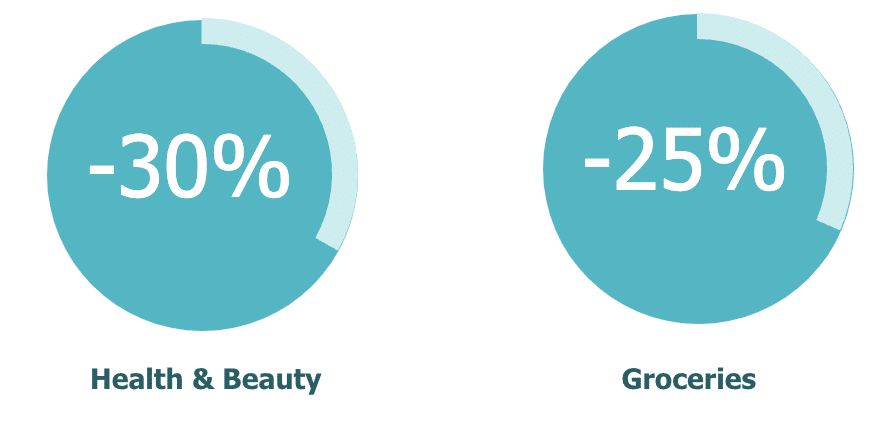 The shorter average path to purchase emphasizes the importance of capturing the attention of holiday shoppers early and often. Proactive brand engagement ensures that your brand stays top of mind throughout the shorter shopping journey.
November ushers in acquisition opportunities
The holiday season is a prime time for engaging first-time customers. Criteo retailer data shows that CPG purchases from new buyers start to increase in November and remain high through December. Last year, CPG purchases from new buyers rose an impressive +215% on Black Friday compared to the first four weeks of October.
Indexed Sales of New Buyers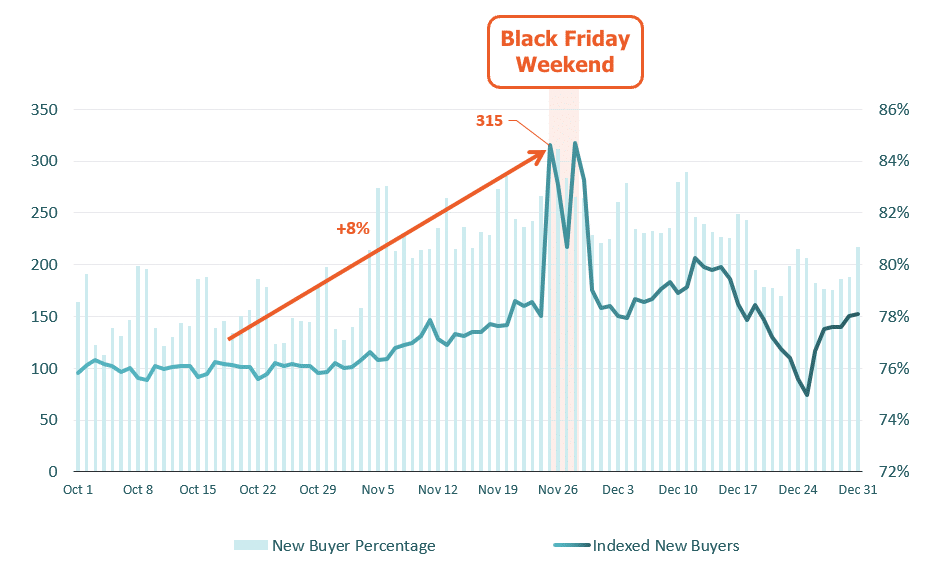 With shoppers open to considering new brands in Q4, plan strategically to use ad formats and placements that will capture their attention—focusing on impressions rather than conversions to maximize results.
Read more CPGenius insights
For more CPG marketing insights, we invite you to delve deeper into our report, CPGenius Marketing: Shopper Insights for Success. Inside, you'll discover key landscape trends, consumer preferences, and path to purchase behaviors that will empower your business to navigate the future of CPG marketing with confidence.