Among the many changes that 2020 brought, the importance of digital marketing came to the fore. The increase in digital consumption spurred by the COVID pandemic, from streaming entertainment to buying groceries online, caused businesses large and small to adjust their marketing mix—and to look to digital marketing as a crucial tool for communicating with new and existing customers.
Our new State of Digital Advertising 2021 report confirms this, with 7 out of 10 survey respondents saying that marketing has become more important in their organization.1
The reasons for the increase in importance were various, but more than 50% attributed it to an increase in digital marketing, and a greater need for performance marketing campaigns to drive sales.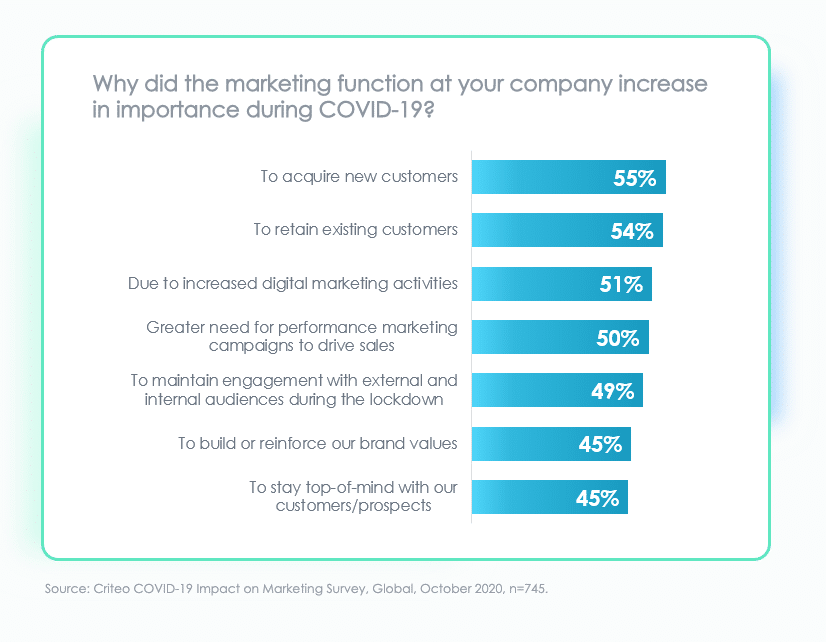 This increased focus has translated into increased budgets in 2021, giving digital marketers more room to make an impact. Those that can successfully navigate the challenges below will be the winners in what we think will be the Year of the Digital Marketer.
Challenge 1: Collecting and Activating First-Party Data
Third-party cookies will be disappearing as soon as next year. For this reason, advertisers are racing to build up their first-party data. At the same time, consumers are demanding that their privacy be protected and respected.
To earn trust—and opt-ins—from customers, advertisers need to clearly explain the value exchange. A Verizon Media and IPG Study found that 88% of respondents would willingly trade their data for a service.2 The onus is on advertisers to create and communicate that value, be it a more personalized experience, a loyalty program, or other incentive. It all begins with an honest and transparent conversation with customers about how their data will be used, and by putting the control in their hands to allow or deny access.
In addition to opening the lines of communication with customers, advertisers can scale their first-party data by expanding into channels such as retail media. According to our global survey, marketers are already making this shift. More than 4 in 10 marketers are planning to spend more on retail media this year.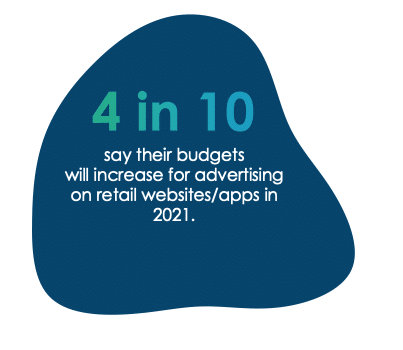 Challenge 2: Strengthening Omnichannel Strategies
Many companies had to pivot as a result of COVID to expand their online channel and/or add buy online pickup in store, curbside pickup, and contactless shopping abilities. The challenge for 2021 is to refine and expand on those omnichannel strategies adopted last year.
That might mean adding an app, connecting in-store and warehouse inventory for faster online shipping, or merging your offline and online data to better understand the complete customer journey.
Our survey found that more than 40% of respondents will focus on improving the integration of in-store products and services with their website and app in 2021. More than a third plan to increase their budget for omnichannel strategy.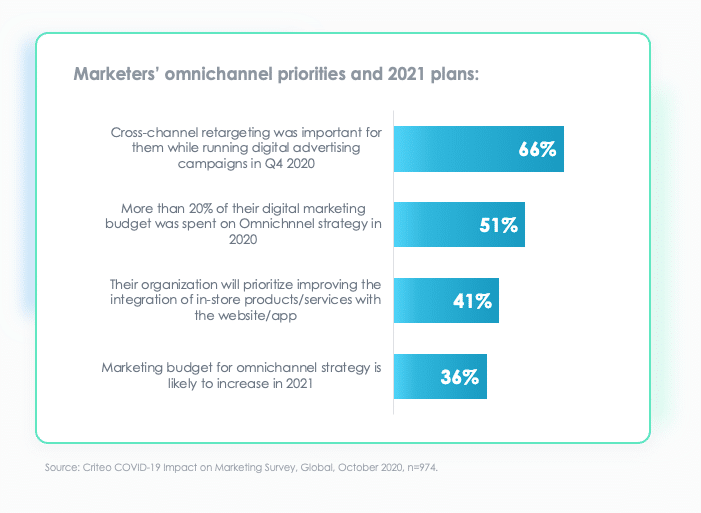 As companies increase their omnichannel marketing efforts, the need for analytics that show the entire journey—across online channels and from online to offline—will be greater than ever. Companies will want to see the impact of digital campaigns on offline sales. And as the role of physical stores evolves, to understand how the in-store experience impacts online sales.
Challenge 3: Truly Putting the Customer at the Center
For years, companies have been talking about customer centricity. But despite good intentions, it remained far from a  widespread guiding principle.
In 2021, putting the customer at the center needs to be fully internalized once and for all, and it needs to be about more than just creating a seamless shopping experience. World-weary consumers are looking for brands that show humanity, compassion, and a desire to use their power for the general good—not just to boost the bottom line.
As we highlighted in our Shopper Story 2020 report, more than half of consumers in a Criteo survey said that brand values affect their purchasing decisions.4 Marketers are listening, with 37% reporting that building brand value that connects with customers is a core objective to bounce back from COVID-19.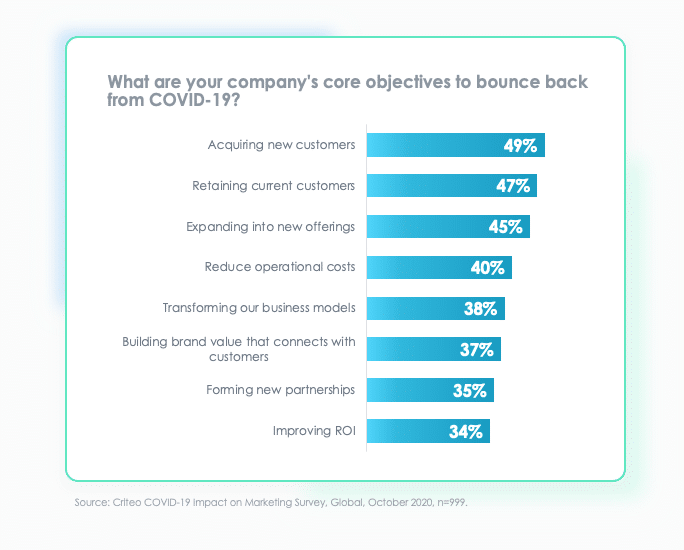 Welcome to the Year of the Digital Marketer
With a more prominent seat at the table and more budget, the time is now to show the power of digital marketing. By teaming up with like-minded tech partners, marketers can turn the challenges above into opportunities that will not only give them a competitive edge, but also help them gain loyal new customers.
For more data and insights on how marketers around the globe are planning for year, download our State of Digital Advertising 2021 report.
1 Source: Criteo COVID-19 Impact on Marketing Survey, Global, October 2020, n=1039.
2 Source: https://www.verizonmedia.com/insights/prepare-for-uncertain-data-future-ccpa
3 Source: https://www.omnisend.com/blog/omnichannel-statistics/
4 Source: Criteo Shopper Story, US, July-August 2019, n=1013. Criteo Shopper Story, APAC, July 2019, n=5028, Criteo Shopper Story, Europe, July-August 2019, n=5108.