"Find the right audience, at the right time, with the right message."
As marketers, we've heard this sentence time and time again. We all know that if we succeed in doing this, we'll be able to find new customers and strengthen our relationship with them. So, how do we make it a reality? At Criteo, we believe the journey begins with your audience.
According to eMarketer's recent report on Customer Experience, only 34% of marketers believe they are able to deliver their message to the right audience today. One of the major issues is that advertisers have spent the past decade trying to target their audience based on neat segmentation boxes, leveraging socio-demographics and broad interest groups that the modern, on-the-go consumer doesn't necessarily fit into. As explained in this previous blog post, we need a new approach to how we reach our target audience that allows us to accelerate the marketing results that the business expects: greater brand awareness, increased conversions and leads, and more customer loyalty.
For this reason, Criteo has developed its Audience Module to help advertisers connect all their existing data, enhance it with insights and Criteo's intent data, and build enriched audiences that can be activated across the entire customer journey.
Connect Your Existing Data
Criteo allows you to connect with all your data sources across devices so that you can create unlimited scenarios to engage and re-engage with the users you already know. For example, if you're looking to target buyers who recently visited or purchased from you in-store, you can leverage our fully integrated partnerships with more than 20 CDPs and DMPs, such as Adobe Audience Manager, Oracle Data Cloud, Lytics, and Bluecore.
You can also engage with existing website visitors and app users, providing you the flexibility to create the most relevant segments for your campaigns. For example, if you're an automotive brand, you might want to target leads who used the car configurator on both your website and your app. This data can be easily connected into Criteo's Audience Module.
Gain Insights into Shopping Affinity
If you're looking to find new customers, Criteo makes it easy to discover insights you can use to reach the consumers who are most likely to engage with you. Our Audience Explorer uncovers new Criteo-powered audiences that have the same interests as your existing customer base. For example, you might discover that the group of people that bought from you during the recent pandemic lockdown share similar product interests, brand affinities, and demographics.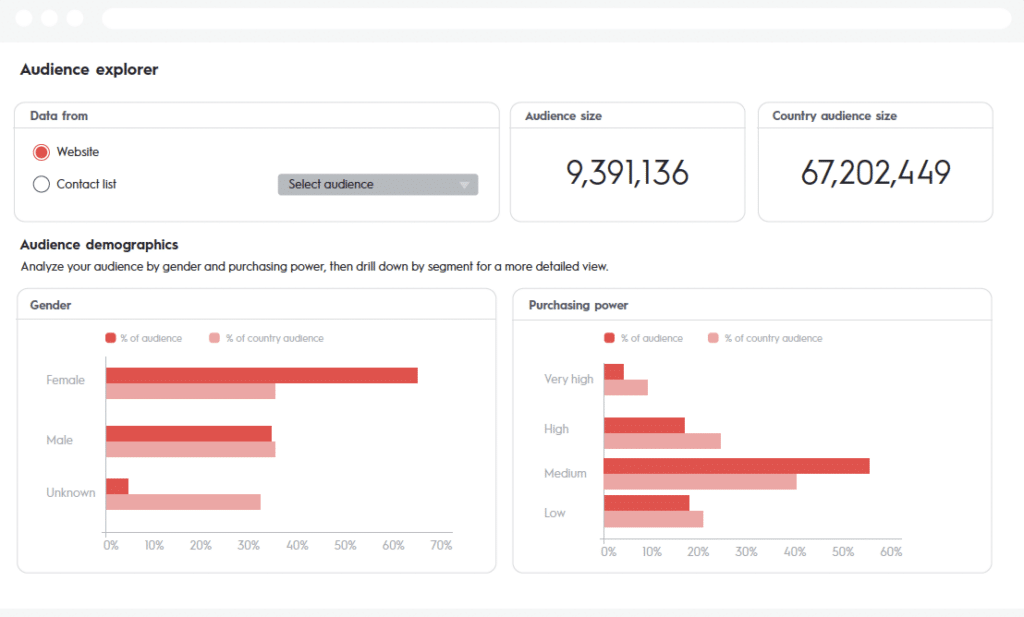 Activate New Audiences
You can take these valuable insights to help you acquire new customers more efficiently in your future campaigns using Criteo's Commerce Audiences, choosing from a list of 1,000+ pre-built categories:

Another way to quickly find new customers is to allow Criteo's algorithm to automatically reach these new audiences for you. Criteo's Similar Audiences will run an analysis of your online website visitors to understand their shopping behaviors based on hundreds of intent signals such as engagement, navigational depth, and buying frequency. Our algorithm will then find lookalike audiences who share the same shopping behaviors, allowing you to rapidly grow your business.
Measure Performance
Criteo shows you the performance of each audience that has been targeted in your campaigns. This data allows you to compare the size, reach, and exposure of your audience, alongside insights into their purchasing power and whether they prefer to buy female or male-oriented items. These insights enable you to optimize your campaign in real-time, or tailor your target audiences for your future campaigns.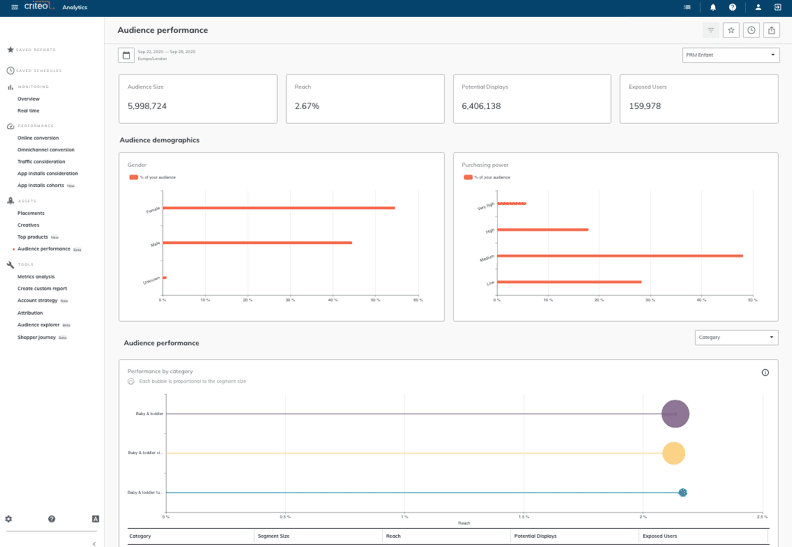 Criteo's Audience Module allows you to better understand your existing customers, access Criteo-powered audiences, and immediately activate them in your campaigns. We're continuing to invest in advancing the audience capabilities of Criteo so you can expect to see more features in the future to help you reach your goals to drive customer acquisition, lead generation, and customer loyalty.
Already a Criteo client? Log into your account to see to the new audience options available in your region. If you're looking to get started on targeting your ideal audience, sign up to join the Criteo platform today!