This week, one epicenter of the coronavirus—New York City—enters phase two of its reopening, which means retail stores, restaurants, hair salons, and car dealerships can welcome customers again, but with certain safety measures. In other parts of the U.S. and around the world, businesses have been open for some time.
At the peak of the coronavirus outbreak, major parts of the global economy turned almost completely virtual. Today, the world is starting to look more like it did prior to the outbreak, but consumers aren't going back to their old shopping habits overnight.
Criteo recently surveyed more than 13,000 consumers around the world and many said they plan to continue the online shopping habits they formed over the course of the outbreak. More than half (53%) said they discovered at least one form of online shopping during quarantine that they want to continue.1
Marketers have had to adapt quickly to these new consumer behaviors and put a larger focus on digital. As we see the beginnings of an economic rebound in many countries, how can marketers get ahead of the challenges coming next?
Marketing in the Economic Rebound
At Criteo, we talk to marketers every day. We hear many of their challenges and help create advertising campaigns that can adapt to their new realities.
We wanted to share this knowledge with everyone, so we launched our new guide 2020 Rebound: 7 Advertising Strategies for the Social Distancing Economy. Inside, we took the most common business challenges we've heard and developed solutions that every marketer can put into practice today.
Below, read about every challenge and solution and download the full guide for detailed steps to launch every strategy.
7 Big Marketing Challenges & Solutions
Challenge #1: Reduced Advertising Budget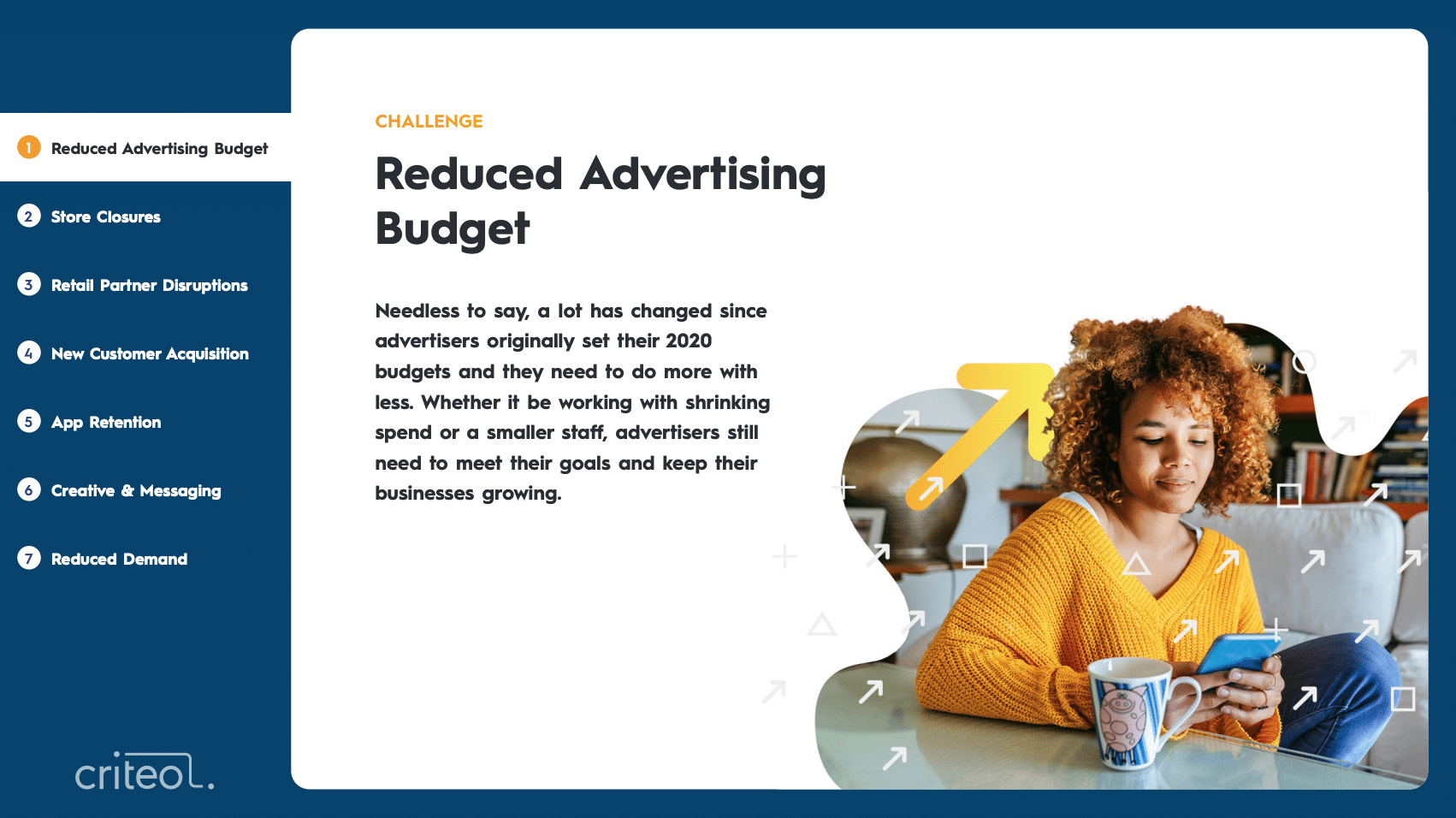 Solution: Focus on performance marketing.
Performance marketing allows you to work toward specific business goals while knowing exactly how you're spending your marketing dollars and being able to measure the success of your campaigns.
When you can see clear results and understand the ROI of each campaign, you can then consolidate your spend on your best-performing marketing channels and stay focused on business growth.
Challenge #2: Store Closures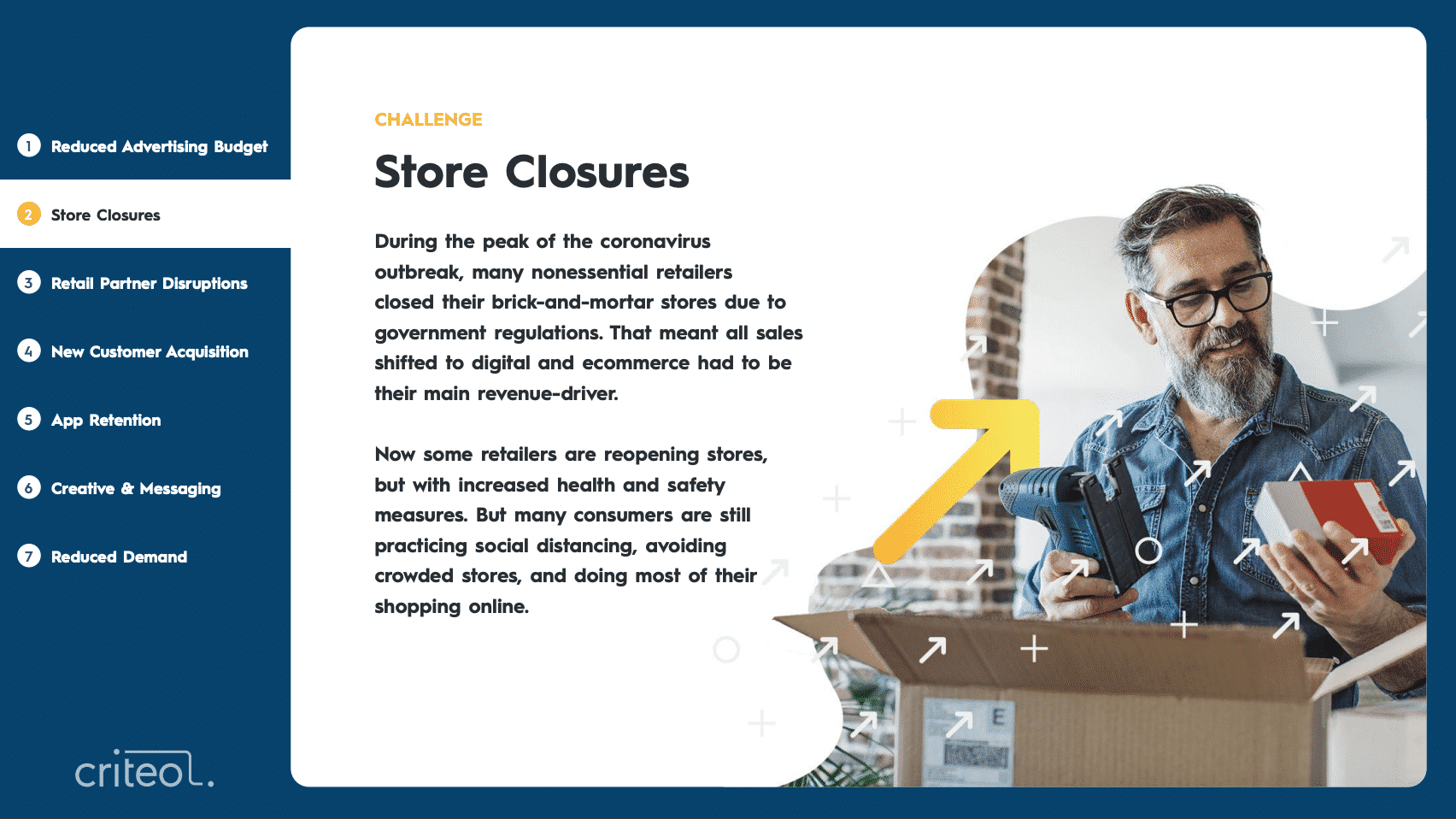 Solution: Leverage loyalty to your stores to drive sales across channels.
When retailers had to close their physical locations, many chose to redistribute budgets from stores and offline sales to online tactics and ecommerce. Depending on the locations of their stores, retailers can launch digital campaigns to keep their loyal in-store shoppers informed about reopenings and encourage them to purchase virtually in the meantime.
Challenge #3: Retail Partner Disruptions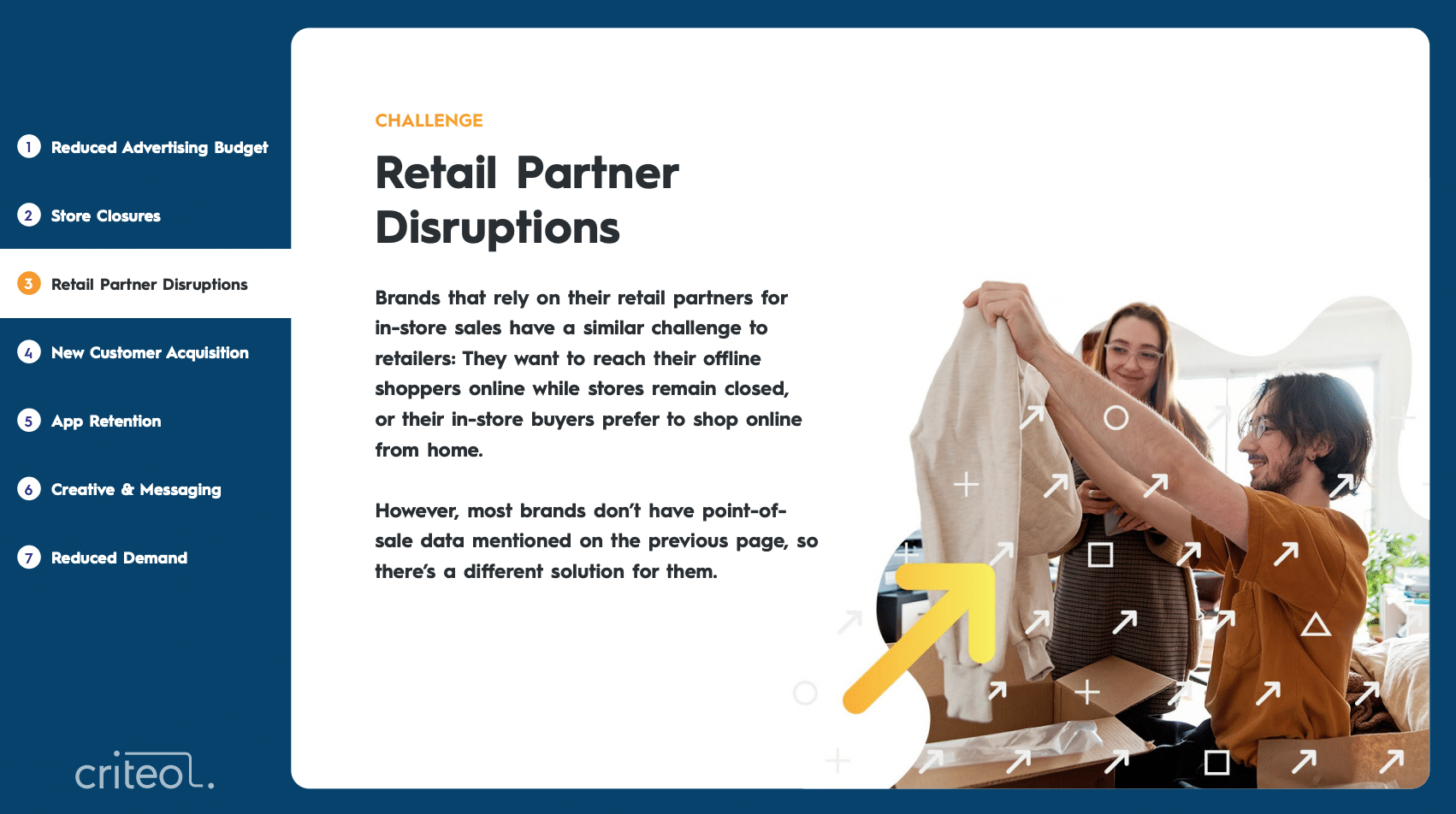 Solution: Invest in retail media, including native ads on retailer websites.
Retail media gives brands access to ads on the retailer sites they already sell on, reaching consumers while they're actively shopping and ready to buy.
With the surge of browsing and buying online, retail media helps brands gain prominence on the digital shelf—whether that's the retailer's website homepage, a search page, or a product description page.
Challenge #4: New Customer Acquisition
Solution: Reach new audiences that are actively shopping for in-demand products.
In this time of rapid change, consumer behaviors are shifting week by week, which means demand is shifting for different products. You want your ads to reach consumers that are currently in the market for the in-demand products you sell.
Want to start engaging new customers today? Watch our webinar to see how to build your ad campaign audiences with Criteo >> 
Challenge #5: App Retention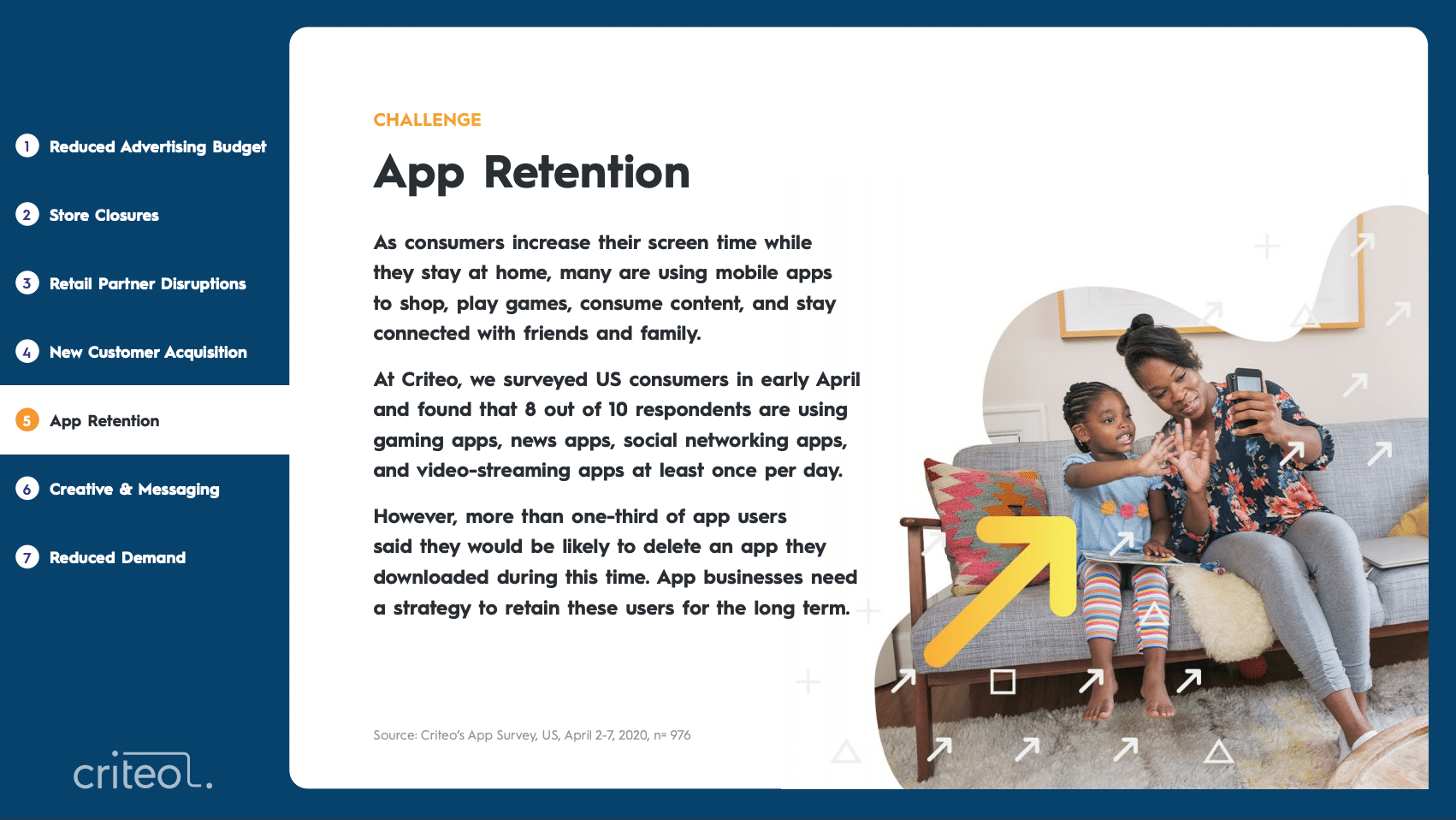 Solution: Focus on the user experience.
It's in app marketers' best interest to prioritize the in-app experience to turn a potentially short-term user into a loyal and active relationship.
Ready to stop new users from abandoning your app? Get a copy of Criteo's Ultimate Guide to App Retention >>
Challenge #6: Creative & Messaging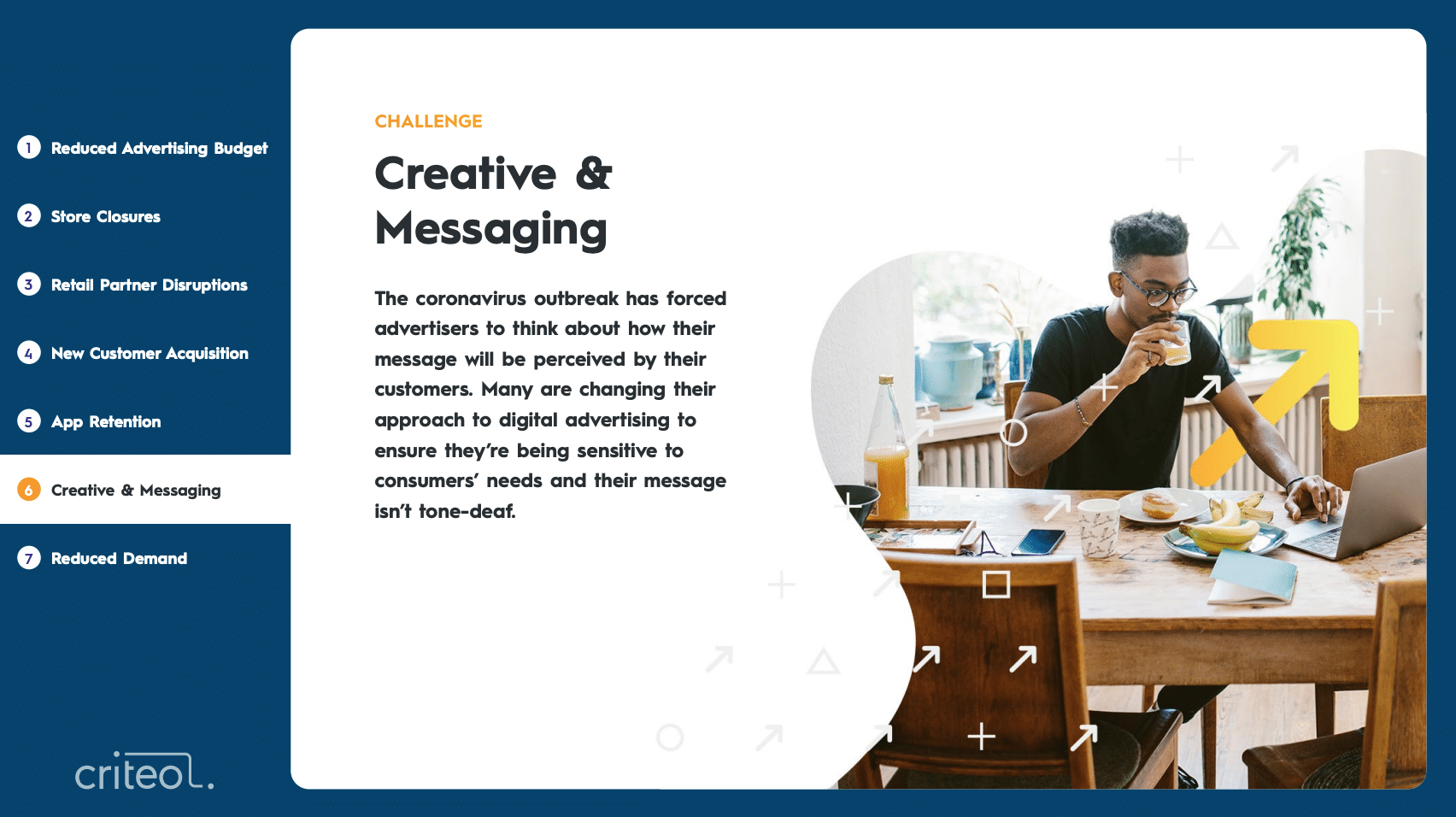 Solution: Inspire and motivate consumers as they adapt to their new way of life.
A recent Kantar survey of more than 35,000 consumers around the world found that the majority of consumers (77%) think brands should "talk about how they are helpful in the new everyday life," and 70% think brands should "offer a reassuring tone." It's crucial for marketers to keep advertising and adjust their creative and messaging.
Challenge #7: Reduced Demand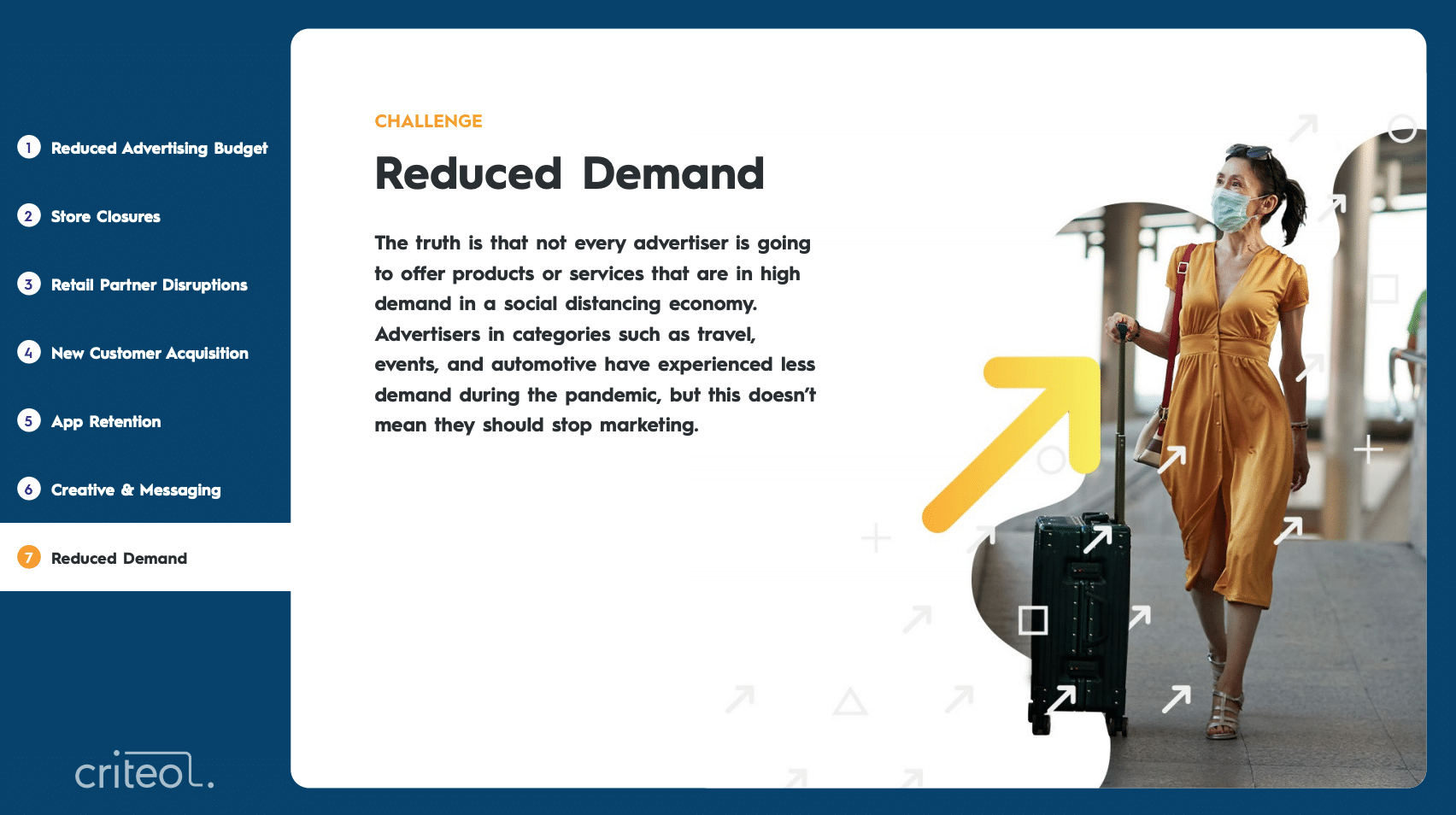 Solution: Build consumer trust in preparation for the rebound.
While the exact timeline of recovery is unclear, most marketers realize that the post-coronavirus world will be different and are looking for ways to help their customers post-crisis.
Download the full guide today to learn more about every solution and see real-world examples:
1Source: Criteo's Peak to Recovery Survey, Global, May 13-29, 2020, n=13,532