As COVID restrictions ease and consumer confidence rises, pent-up travel demand is being set free. Today, there's a new sense of urgency to hit the road, and travelers are turning to the open web to book – and shop – for their next trips. Let's take a look at what's happening.
Travel Trend #1: Flight bookings are rebounding worldwide. 
According to The International Air Transport Association, which represents nearly 300 airlines, more than twice as many passengers (150 percent) are expected to fly in 2022 than did in 2021.1 Criteo looked at commerce data from over 2,000 travel advertisers. Globally, our analysis shows that all regions saw impressive growth compared to 2021, especially APAC, where flight bookings were up by 240% in Q2 2022. 2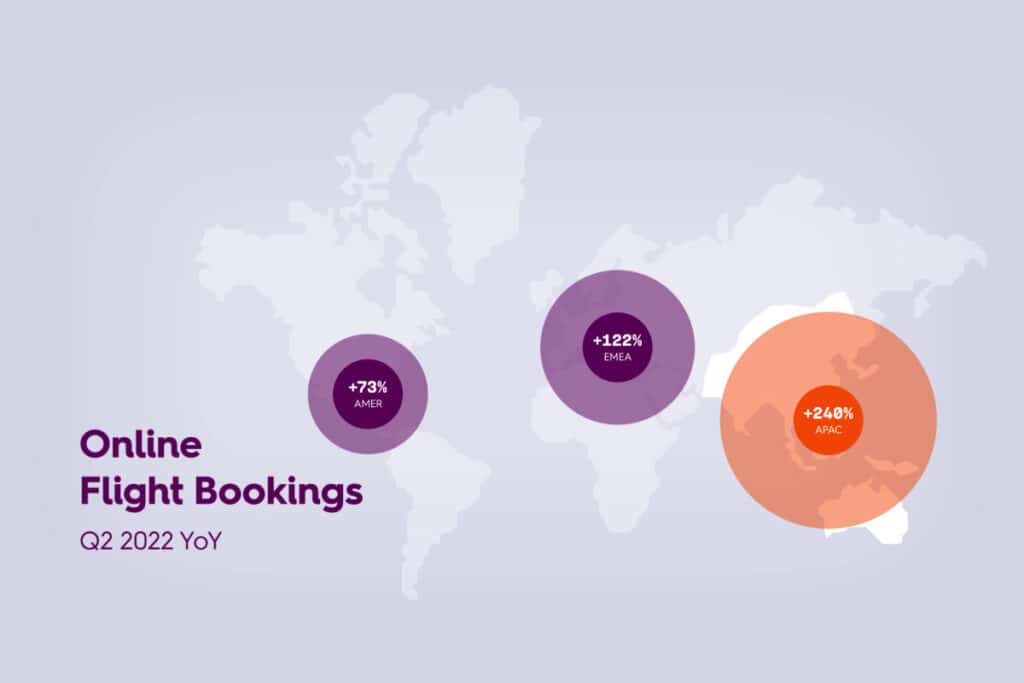 In July, they continued climbing, up by 330% year over year. Overall, this means that online air bookings worldwide more than doubled in Q2 2022, at +123%. By July, year over year bookings were still elevated, up by 92%.2
And if you're still wondering if the air travel rebound is real, listen to this: As a result of the steep increase over the last 12 months, air bookings are now outpacing pre-pandemic levels. In the Americas, flights were up 8% in Q2 2022 compared to the same period in 2019, while in APAC, bookings were up 21%. In EMEA, flights increased by 38%.2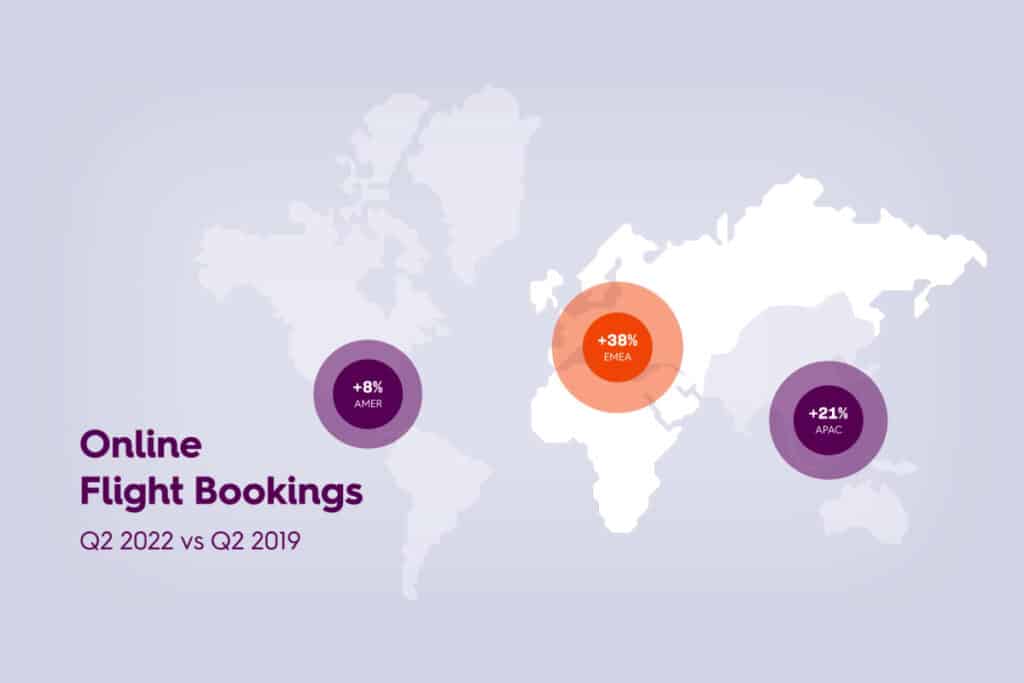 Globally, bookings were up an incredible 29% in Q2 2022 compared to Q2 2019. In July 2022, bookings were up by 23% compared to July 2019. This means that nearly one-third more flights were booked in recent months than during the same time of year before lockdowns began.2 
Travel Trend #2: Earth-friendlier travel is in demand. 
Around the world, travelers are thinking hard about the impact they have on the environment. In our survey of more than 11,000 respondents, 54% of APAC travelers confirmed that they intend to lower their carbon footprint when traveling. The same is true for 48% of European travelers and 40% of Americans.3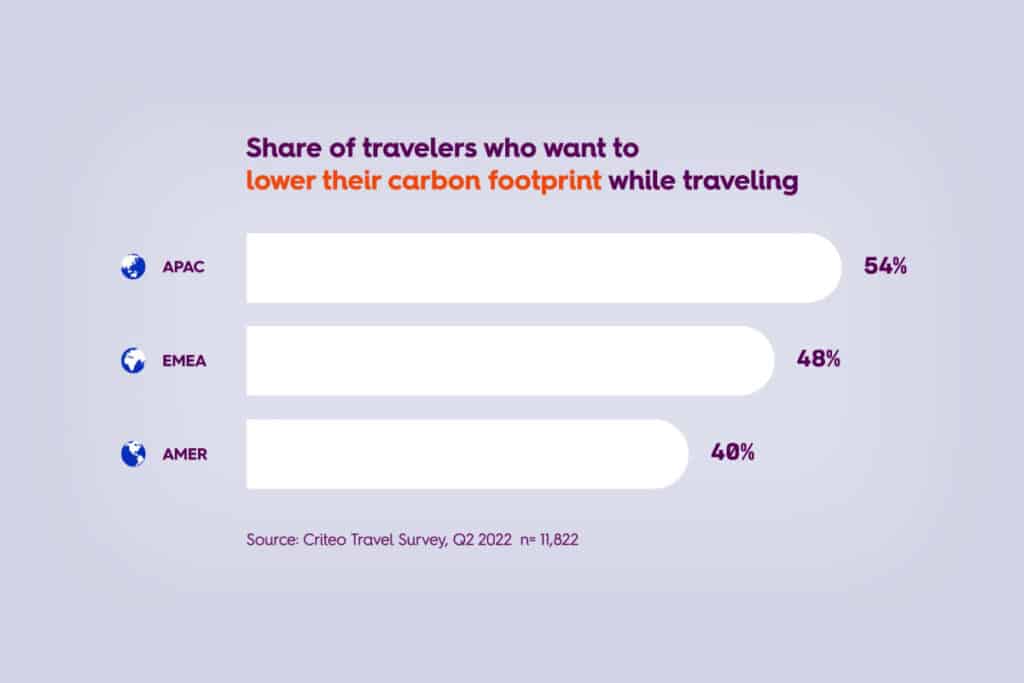 This indicates that advertisers who can offer ways for people to lower their environmental impact, such as energy-friendly hotel rooms, carbon-offset adventures, and local experiences, stand to capture a growing cohort of eco-conscious travelers.
Travel Trend #3: Fanny packs are in style. 
Once a fashion faux pas, now a must-have in many a jetsetter's suitcase, the fanny pack is back. In the 90s, these colorful, practical waist pouches – a go-to item for many American tourists – were about 80% nylon and 100% uncool. This said, Criteo data shows that online sales of fanny packs have been trending for months across parts of Europe, the Americas, and APAC, showing that around the world, consumers are embracing these underrated, ungendered accessories.4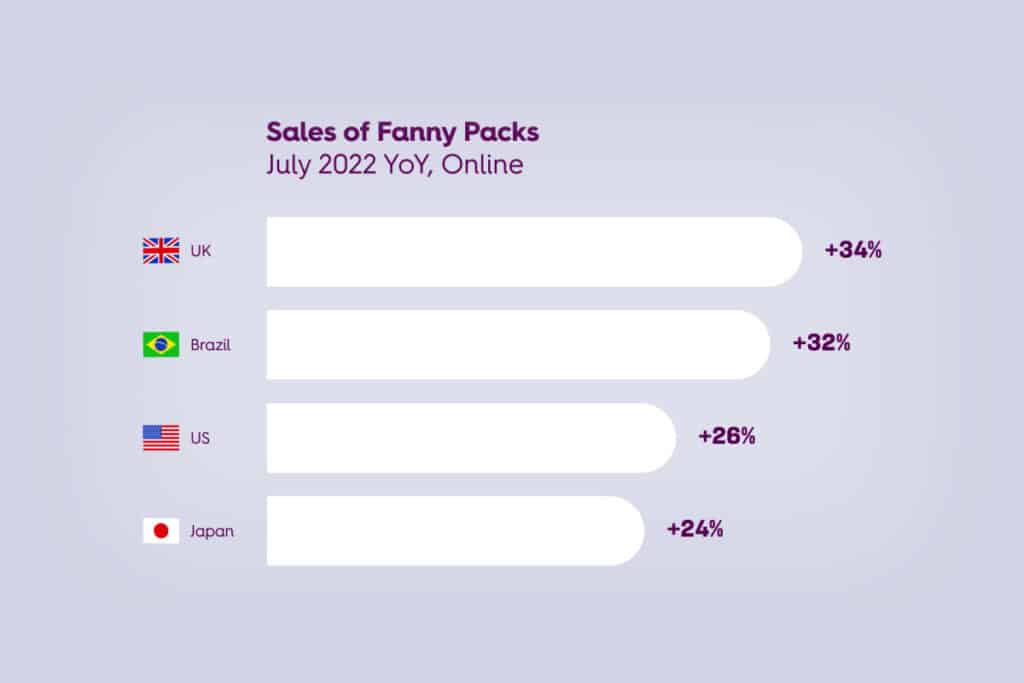 Scroll down to watch the full video or see it on our YouTube channel here. Missed previous episodes? Catch up on wedding season, pet supplies, and health and beauty, baby and toddler, and music trends. For more on the power of commerce data, check out our Ultimate Guide to Commerce Media.
1IATA, https://www.iata.org/en/pressroom/2021-releases/2021-10-04-01/
2Criteo Travel Data, Global, Air Bookings
3Criteo Travel Survey, Q2 2022 base: All respondents, Worldwide n=11,822.
4Criteo Data, Global, based on total web sales seen for a given product category compared to one year prior.