DIY projects can strike fear in the hearts of homeowners. Even so, the home improvement sector is expected to surpass $1,120 billion by 2025. Trustworthy and comprehensive retailers are needed to help consumers understand how to get their MacGyver on.
Materialesdefabrica.com launched in 2014 to help both individuals and professionals research and purchase home materials. With competitive prices, detailed product comparisons, and hands-on customer service, Materialesdefabrica.com has been a pioneer in their sector in Spain, and in France, where they operate as Habitium.fr. They also recently launched in the Italian market under the name Habitium.it.
We spoke to Miquel Joan Vidal Riutort, CMO, for more.
How did Materialesdefabrica.com start? What makes it special?
There are many marketplaces in the home improvement sector, but you have to buy with one company, and then solve your problem with another company.
We want to distinguish ourselves by offering a full service. The customer buys from us directly and if he has any trouble, we are the ones who take care of solving it. This is much more transparent and less confusing.
We are also the only ones who share descriptions of the competition's products. With this we help any customer, whether or not they're an expert, to see what features the product offers and if it fits with what they are looking for.
Who are your target audiences?
The majority of our audience purchases out of necessity, not out of whim. The purchase process in our case is usually long and detailed, since these are products that are rare purchases and are intended to last many years. Our customers go through a detailed journey, researching products across multiple sites before deciding to make a purchase.
A large number of customers repeat with us because of our good customer service, easy-to-use website, and frequent discount vouchers for their next purchase. We also have monthly raffles so that our community can participate and win some of the products sold in the online store.
Our upcoming app will help us connect even more with our audience, by giving them easy and continuous access to all of our updates. 
What do you focus on?
Every day, we track our ongoing campaigns and efforts, and look for new ways to increase our ROI. In the last six months we have increased our monthly billing by 64% and page visits by 26%.

We aim to become one of the largest companies in our sector. That motivation keeps us from ever taking the foot off of the accelerator. Marketing is one of the main ways to keep up with the best, and we increasingly invest in it.
For example, Criteo is a very powerful tool to reengage customers who were in the purchasing process, at the most opportune time and remind them that we are what they were looking for.
What are some of the trends that could affect your business in the next year or two?
More and more customers are looking for quick-loading sites that are easy to navigate and find everything what they need in a couple of clicks. We work every day to offer the best service and user experience in that regard.
We see that reflected in the reviews of our brand. Thanks to our hard work and dedication, we have thousands of customers who have commented on our online store and their purchases, giving us an overall rating of "Excellent" for our Trustpilot score, with a 4.5 out of 5.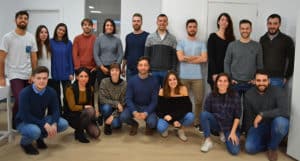 What are you the proudest of in your work?
When I joined the company, we were only five people and the website had just launched. We worked from the living room of our CEO, Jaume Riutord, and each sale was shouted across the room. Back then, we were able to invoice €1,800 in the best months. Now, after four years, we are in an office with 26 employees and we invoice around €700,000 per month.
You never know for sure if something is going to work, but what is certain is that with ambition, motivation, focus, and hard work, the chances of success multiply. In our case we rely on a project, we pivoted to it, we worked many hours and we learned a lot. Now I look back and I am glad to have trusted in this project and to have set aside other "easier" paths for me at the time, to be where I am, where we are.
What advice would you give to other marketers?
Each new idea or objective is a challenge and involves new learning. That's applicable in both your professional and personal life.
For me, conformity is one of the adjectives that mediocre people share. You have to get out of your comfort zone, don't be afraid of making mistakes and then you'll be able to fill yourself with new experiences.
For more on how MaterialesdeFabrica.com is finding digital marketing success, read on for their full success story.