This Black Friday surprised everyone—in a good way. Despite rising prices due to inflation, businesses raked in large sales spikes during this year's big deals event and proved that consumers are still keen to participate in festive season shopping. 
To understand the current state of Black Friday, we tapped into our exclusive dataset from 20,000 ecommerce players across 80 countries and the results from our Black Friday Shopper Survey of nearly 4,000 global consumers. Check out some of the trends we discovered. 
Online transactions in 2022 beat 2021
Our survey found that consumers were equally likely to shop during this year's Black Friday as they were in 2021. Despite inflation, many consumers not only kept their word, but also surpassed last year's numbers. Looking at data from 5,400 retailers in 60 countries on Black Friday 2022, online transactions were up +4.8% year over year. 
In the US, online transactions increased +13% during the Black Friday weekend (from Friday to Cyber Monday) compared to the year prior. When looking at sales leading up to the big shopping event, online transactions skyrocketed +374% on Black Friday compared to the average in October.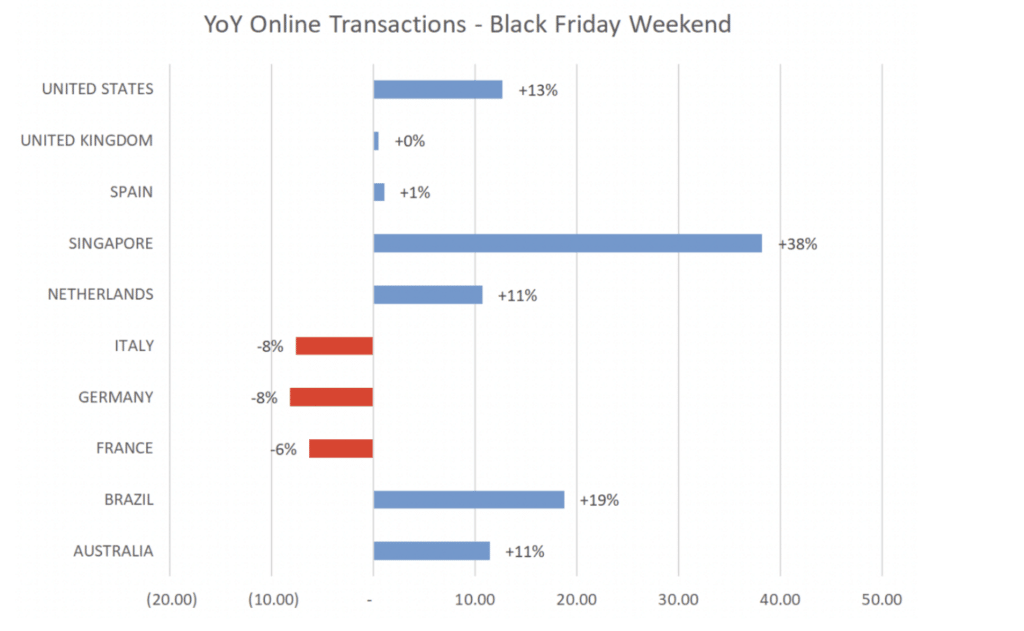 Some APAC countries also showed impressive results. Online transactions in Singapore (+38%) and Australia (+11%) were both up YoY on Black Friday. Additionally, Singapore (+223%) and Australia (+239%) both saw their online transactions spike during the event compared to the average in October. 
In South America, overall online transactions were up +5.8% YoY. Brazil's Black Friday online transactions were up +19% YoY. 
Most of Europe did not capture year over year growth. However, many countries still showed strong spikes leading up to Black Friday. Online transactions were up in Spain (+576%), the UK (+404%), Germany (+346%), Italy (+346%), and France (+344%) compared to the average in October. 
Black Friday is Cyber Friday
Each year, consumer activity and sales continue to show that Black Friday is becoming more of an online event. Before the event, consumers showcased high anticipation online: Retailers' website traffic increased +9% during the seven days leading up to Black Friday compared to the same period last year. 
Looking at data from US retailers who have both online and in-store presences, in-store transactions rose +64.5% on Black Friday compared to the average in October. Meanwhile, online transactions increased significantly more at +374%. 
EMEA sales showed a similar pattern. On Black Friday, in-store transactions rose +41% while online transactions increased +186%. 
Price-consciousness is a strong contributor to the growing shift towards cyber shopping for Black Friday. A full 61% of US consumers believe they find better prices online than in physical stores, and 74% spend more time online to search for the best deals. 
Post-Black Friday is all about retention
We reported that this time of year is crucial for acquiring customers as the share of new buyers (consumers identified as new clients) begins to rise in early November and peaks on Black Friday.  
Our survey results show the importance of investing in acquisition strategies during this time of year even further. Before Black Friday, more than half of consumers globally (58%) agreed that they were likely to try new online brands/retailers offering great deals. 
By acquiring new customers early in the holiday season, marketers can then launch retention strategies throughout the rest of December to drive loyalty and sales among previous shoppers. Our survey respondents cited that they're likely to buy again from a brand that previously provided a positive shopping experience (41%) and high-quality customer service (39%). 
Make the most of consumer data 
For more data-driven insights on how consumers around the world are shopping during this holiday season, read our Singles' Day 2022 Recap. 
Our Holiday and Festive Season Playbook on a Page is also packed with strategies backed by data from more than 22,000 advertisers and $1 trillion in ecommerce sales. Download our guide to access digital advertising tactics that will help marketers make the most of the peak shopping season.